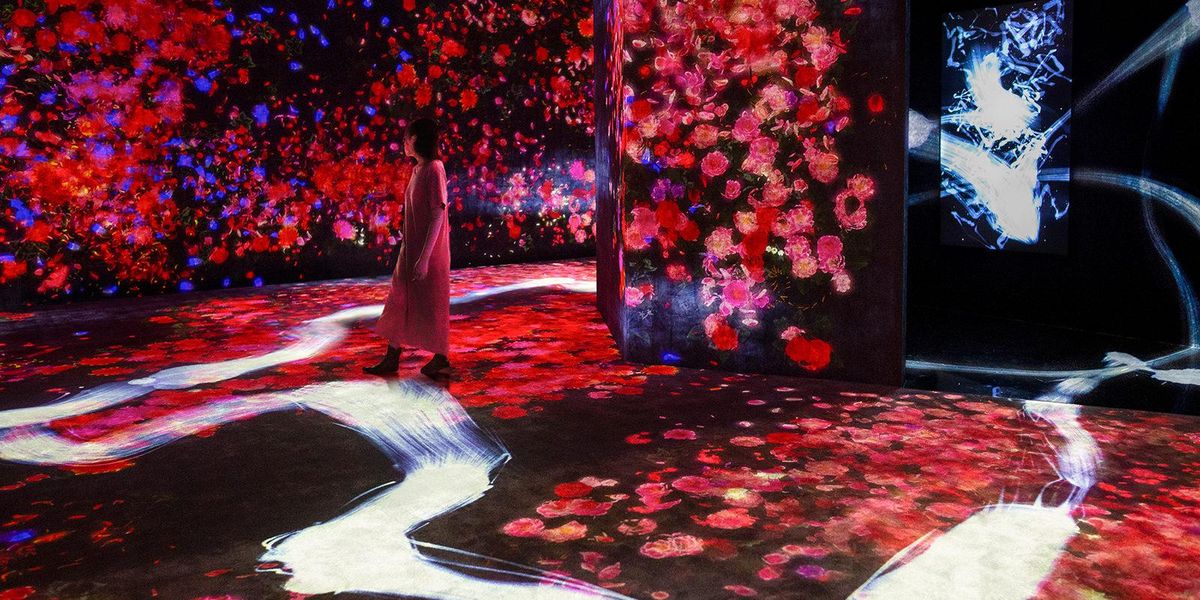 22 fun things to do this week (7.26.21)
Prepare for ooh and ahh on TeamLab's new immersive art experience – featuring fish, flowers, butterflies and whimsical graphics – in a 15,000 square foot exhibit at the Asian Art Museum.
Plus, get inspired by the Local Love Summer Art Festival, watch outdoor dance performances at Yerba Buena Gardens, sample a classic shell boil, and many more ways to have fun until the end. July.
---
Had a good time!
Get the Bay Area thrills at the local Love summer art festival. For six days this week, BLOC15 will transform into a hub for interactive art, live music, fashion and more; From Tuesday to Sunday. // BLOC15, 252 2nd St. (Oakland); tickets ($ 20) are available at locallove.io.
Share your thoughts on what makes San Francisco shine. The golden trees of Shine on SF appear in the Mission neighborhoods of Union Square and invite you to hang your own note to celebrate and beautify the city's public spaces; until August 15. // Find details on brilleonsf.org.
Support Sonoma County First Responders at Wine, Bite & Bids which, frankly, is exactly what it sounds like. Suppliers include La Crema, Kendall-Jackson, Seismic Brewing Co., and Oliver's Market. The event will benefit the Six Foundation; 4 p.m. to 7 p.m. Tuesday. // Domaine La Crema at Saralee's Vineyard, 3575 Slusser Rd. (Windsor); tickets ($ 75 per person) are available on eventbrite.com.
Yes Anarchy in high heels sounds like your jam, then listen to a conversation with author of the new memoirs, SF-based experimental theater artist Denise Larson. The book explores feminism, humor and confidence in a local 1970s porn theater; Tuesday at 6 p.m. // Green Apple Books, 1231 9th Ave. (Inner Sunset), greenapplebooks.com
Pair Thai rummy teas with shrimp and pineapple fried rice at Jo's Modern Thai, a new restaurant collaboration between the chefs of Kin Khao and Racha Cafe; 4 pm-9pm Wednesday to Sunday. // Jo's Modern Thai, 3725 MacArthur Blvd. (Oakland), josmodernthai.com
Get wide-eyed at TeamLab: Continuity, an interactive exhibition created by the famous Tokyo-based art collective and featuring dynamic light and sound rooms inspired by nature and East Asian art. // Asian Art Museum, 200 Larkin St. (Civic Center), exhibitions.asiatic.org
Eat carbs and try to strike at the Mission Bowling Club pop-up with Marinucci's Pasta Shop. Choose from four kinds of lasagna, potato salad with bacon and pesto and focaccia; 4 p.m. to 8 p.m. Wednesday. // Mission Bowling Club, 3176 17th St. (Mission), missionbowlingclub.com
Taste and learn all about absinthe with Absinthia, a manufacturer that uses organic grapes from California and herbs from Oregon. You will be educated on the myths, virtues and history of the botanical spirit among the floral installations of Sainte Flora. The event is inspired by Palette Gallery Pollanators exposure; Thursday from 5 p.m. to 6 p.m. // Galerie Palette, 816, rue Folsom (SoMa); tickets ($ 25) on eventbrite.com
Explore the solo exhibition of knotted artist Windy Chien, Line travel: Selected works. The opening from 4 p.m. to 6 p.m. on Saturday; exhibition until September 14. // Sarah Shepard Gallery at Marin Country Mart, 2245 Larkspur Landing Circle (Larkspur), sarahshepardgallery.com
Hear the hum of our most iconic bridge in Nate Mercereau's "Duets / Golden Gate Bridge". The artist, who also creates music for pop stars like Lizzo, released four pieces of improvised tunes played on bridge. // Listen on spotify.com.
Get healthy omegas at the annual Avocado Con. Over 12 vendors (and a DJ as well) will take over District Six with all manner of Avocentric goodies – think not-so-average toast, fries and ice cream; 9 a.m. to 3 p.m. on Saturday. // District Six, 428 11th St. (SoMa); tickets ($ 5) are available on eventbrite.com.
Fall in love with Aviator Nation's Hayes Valley boutique. During Double Rainbow's live stand-up show, expect to see performers from Comedy Central and SF SketchFest; 7:30 p.m. to 10 p.m. Saturday (and August 28). // Aviator Nation, 520 Hayes Street (Hayes Valley); tickets ($ 20) on eventbrite.com
Enjoy outdoor dance performances at ChoreoFest in Yerba Buena Garden, with pieces by RawDance, Margaret Jenkins Dance Company and Shinichi Iova-Koga; Saturday from 1 p.m. to 2:30 p.m. // Yerba Buena Gardens (SoMa), rawdance.org

Put on your bib for the Lobster and Shellfish Boil from The Vault Garden. Seats are available from 5:30 p.m. to 9 p.m. on Saturdays. // The Vault Garden, 555 California St. (FiDi); reservations ($ 85 / person) on exploretock.com
Escape the city for the Mountain Winery concert series. The open-air amphitheater season kicks off this week with a performance of Little Big Town (Saturday at 7:30 p.m.). Look for Billy Idol, Roger Daltrey, Rufus Wainwright, Lord Huron and more in the months to come. // The Mountain Winery, 14831 Pierce Rd. (Saratoga); programming and tickets on mountainwinery.com
Make your 2020 lame birthday at the Milk Bar's sweet pop-up. Sample birthday cake truffles and cereal milk, or have the treats delivered via DoorDash Kitchens; noon to 7 p.m. Saturday and Sunday. // Gott's Roadside, One Ferry Building # 6 (Embarcadero), milkbarstore.com
Stop by the annual Nihonmachi Street Fair for music and shows; noon to 5 p.m. on Saturday. // Place de la Paix, 1610, Boulevard Geary. (Japantown), nihonmachistreetfair.org
Watch an intimate courtyard concert with guitarist / singer Matt the Electrician, by KC Turner Presents; Saturday at 5 p.m. // SF lLocation will be disclosed when purchasing tickets ($ 30), seetickets.us.

AsiaSF is back! Make reservations for the popular 20+ trans dinner show, which starts again this Thursday. // AsiaSF, 201 9th St. (SoMa), asiasf.com
Get moving during Outdoor Yoga SF's silent vinyasa disco class with a view of the horizon; 9 a.m. on Saturday and 10 a.m. on Sunday. // The Ritz Carlton, 600 Stockton Street (Nob Hill); tickets ($ 29) are available on exterioryogasf.com.
Attend Comedy Outburst for Durst, a plus for San Francisco comedian Will Durst who recently suffered a stroke. Dan St. Paul, Johnny Steele and Richard Stockton will make you laugh; Saturday at 5 p.m. // El Vaquero Winery Tasting Room, 2901 Freedom Blvd. (Corralitos); tickets ($ 20) on eventbrite.com
Take the family to a free Golden Gate Park Band concert. They will be playing in the park every week for the next few months; Sunday to October 3 // Golden Gate Park (free); details on facebook.com