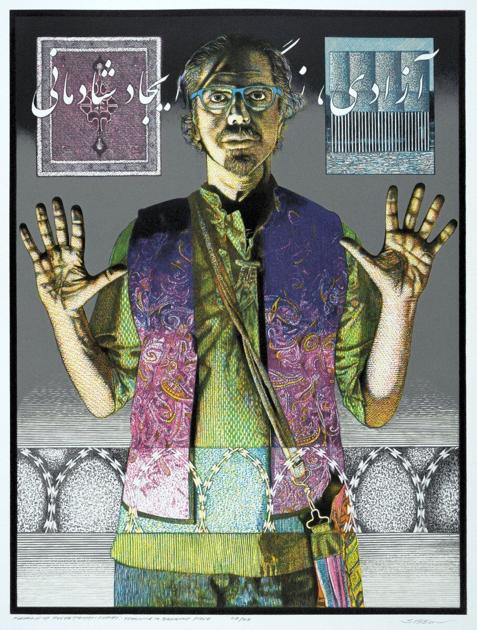 '24 Works on Paper 'Coming to Spider Gallery | Culture & Leisure
"24 Works on Paper," a traveling exhibition of works by living Oklahoma artists, will open to the public on August 10 at the Spider Gallery, 215 S. Muskogee Ave.
The gallery is open Tuesday to Friday from 9 a.m. to 5:30 p.m. and Saturday from 10 a.m. to 2 p.m. OVAC will also have a digital catalog and educational guide available on its website for those who prefer to enjoy the exhibit from home. A virtual tour of the exhibition is archived online at nbcwigwam.art.
"We look forward to welcoming 24 works in paper, and we hope the community enjoys feeling connected to artists from across the state," said Matthew Anderson, Cherokee Cultural Entrepreneurial Development Specialist at the Cherokee Arts Center and the Spider Gallery.
The 24 Works on Paper exhibition features 24 works of art that include printmaking, drawing, painting and photography. The guest curator for 2020-2022 is Heather Ahtone, Ph.D., senior curator at the First Americans Museum in Oklahoma City. Reflecting on the selection process, Ahtone said, "Working on paper is magic. Taking flat-pressed beaten pulp, and using its naturally textured surface to its advantage requires some mastery of hand and materials. It was a very enjoyable process and I am grateful to all the artists who submitted, and to OVAC for asking me to participate.
The guest curator is responsible for selecting all works for this traveling exhibition and the winners of the Curator's Choice and Award of Merit cash prizes. All works are included in a color catalog, with an essay by the curator.
24 works on paper will be exhibited at the Spider Gallery from August 10 to October 10. 2 before heading to the last two locations in the state, bringing original and contemporary Oklahoma artwork to community viewers across the state. Remaining stops on the exhibition tour in fall 2021 include the SEOSU Center Arts Gallery in Durant and the Oklahoma Hall of Fame in Oklahoma City.
For more information on this OVAC exhibition and to view the catalog online, visit www.24works.org.