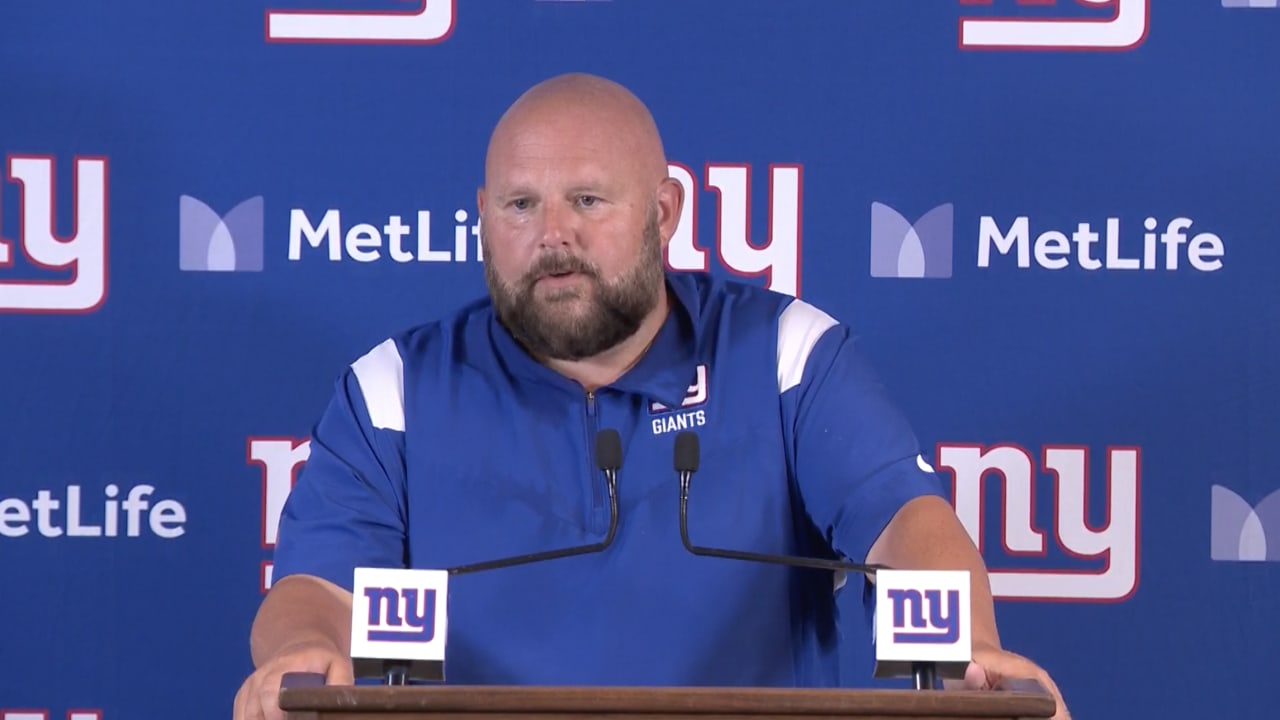 Coach Brian Daboll, QB Daniel Jones, QB Davis Webb, LS Casey Kreiter, WR Alex Bachman
Daboll: How is everybody ? Proud of how the guys competed for 60 minutes again. I got a couple of guys stuck. We will have those tests evaluated tonight and tomorrow, so I don't have an update on those two players. But again, I love how these guys competed. I thought quarterbacks played well, had a good pace in the game, knew where to go with the football, threw a lot of passes. I started marking slowly. Defense, we did a great job in the short fields in the first half. Then the second half, came out and got that penalty. Hit the quarterback guy in the helmet. They fell and scored. But again, a lot to work on. Lot to clean. But proud of how the guys competed.
Q: What do you think of the game management? I know you don't do much in pre-season. But two particular situations. They had a third and 16, a holding would have made a third and 26, but you turned it down. And the other was that you had to call a timeout with your colon conversion.
A: Yeah. Three of the team guys (from kicks) missed. I think they saw me getting excited, so we called a time out there. And then the other was a 50-yard basket. I probably should have taken them back, to be honest with you.
Q: (Outside Linebacker) Kayvon (Thibodeaux) seemed to be in very good spirits as he left. Is it positive with him?
A: Yeah. I mean, we'll see. It'll pass the tests, and we'll have more for you tomorrow.
Q: How scared was it to see him fall like that?
A: I think it's a scare at any time. These players work as hard as they can to try to do the best they can, and every time you see someone on the pitch, no matter how they got here, it's always, it's hard as a coach to watch a guy fall.
Q: What's your stance on guys going low in this situation?
A: We'll that's the rules. If they allow it…we also do it with tight ends and full-backs returning to the line of scrimmage. So, I have to do a good job to play it. It is a difficult block. But whatever the rules are, they are the rules.
Q: You said the other day that you might revisit the idea of ​​(Quarterback) Daniel (Jones) playing tonight. What made you decide to go ahead and put it there?
A: We revisited everyone. I just thought he could use it. Our attack could use it with him there. He played really well. Was in good working order. Good game.
Q: You know how much players have put in trying to make the team and everything. How about (Wide Receiver) Alex Bachman having the game he had tonight?
A: Everything this guy has done is the right thing since he's been here. He showed up in the spring and worked as hard as he could and got better every day. He's one of the first guys in the weight room every day. He was down, down on the depth chart, rep chart if you will, and all he does is compete and play hard. And I appreciate guys like that. I think his teammates too. It was good to see him having success there. He will have more chances.
Q: You obviously don't have a game management background. So it was like a fourth-and-one at your own 41 in the first half, and you went for it. Is this a glimpse of your aggression? Or did you just want to give the attack a chance to advance?
A: We talk about it every week. I would say we have some pretty in-depth meetings about this with our analytics department. I think every game, there's a defined area where we decide to go, and a couple of guys are warning me, 'Hey, those are the, we'll start going there if we get to that.' I think there are a lot of things that come into play. I don't think you can just look at a number and do it. But I think it's going to be a big part of our decision-making process, and tonight we kind of went through the numbers, if you will. Now there are a lot of things: the weather, how the other quarterback is playing, how the other team is playing. There are so many different situations that arise. But I definitely use them.
Q: You kind of talked about gut versus numbers. Is it something where the gut is kind of the breaking point if it's even? How do you decide when you go with what?
A: It's not really like gut. I think it's a calculated decision. There are the numbers and then there is also the opponent. There are factors that come into play. There's the weather, how the other team is playing, how you're playing at the same time. I'm a big fan of analysis, I am. We used it a lot in Buffalo, and we will use it here.
Q: Is it as good as you've seen (Quarterback) Davis (Webb) play?
A: In a game? He was pretty good at the controls. You know, he's been on this offense for, again, he hasn't been in six months. He's been in it for years. So again, who we play against, when we play them, he has full control of what we do. He understands. Look, give credit to those guys up front who played. I mean (Tackle) Roy (Mbaeteka) basically played football for a few weeks like with pads, in his whole life. (Lineman Offensive) Chris Owens just got off the plane to play pretty much an entire half. (Tackle Will Holden) Holden's game center for us. So give (Offensive Line Coach) Bobby Johnson and (Assistant Offensive Line Coach) Tony Sparano – those guys have been working the last two days getting them ready. They played a full half and then allowed Davis to play. But Davis has a good understanding of what we handle, how we handle it. We know what he likes. There is time invested. Well, three years of time invested with a player. It goes very far.
Q: What did you enjoy most about what Daniel did? And on the interception, it looks like it was a pass that probably could have been caught.
A: No, we have to catch him.
Q: Why do you think Daniel had such good pace on that touchdown?
A: I think he has a pretty good rhythm when he plays games. I know training is tough, and there are a lot of things ahead. But he picks up on our attack. Listen, it's only been a few months. But he did a good job as a really tireless worker. Even when we're online, we'll be on the phone. He's up there every morning with (offensive coordinator Mike) Kafka. We're trying to articulate what we're good at right now, which isn't easy. It's a continuous process of throwing plays, putting players in different positions, reading body language – "Do I like throwing to this receiver on this road?", protections, we all see them the days, many of those go with this. But he made steady progress. He played well. He was in charge.
Q: How much do you adjust your offense for Daniel versus I guess you can change depending on who's under center?
A: We are still working on it now. Again, it's training camp. The season is coming soon. But there is constant communication. It's important for Mika Kafka, who called the games, and Daniel. And I have constant communication with Daniel like, 'Hey, 'He's like, 'I really like these four pieces. We haven't used them much. If you like these games, we will put them up. These are comfortable games for you, we will set them up. It's not serious. He's like, 'Okay.' We are still building this process, this relationship. And I love the kid, figuring out exactly what we're trying to be. And that's – in an early part of setting up an offense or defense or whatever – I'm not going back four years ago, but the games four years ago we were running very different from the games we run four years ago. It's a continual evolution of time, of effort, of timing, of discussions, of protections, of routes, all of these different things, of the groupings of personnel involved in it. And that takes time.
Q: When Daniel comes in and says, "Hey, I like these four pieces," is that a turning point?
A: I wouldn't call it a turning point. He's not shy to say it; I told him that if he didn't feel comfortable with something – and that's the same as what you can do with a quarterback, you could have different things for the next quarterback – back. They are not all the same. I'm not saying you have two call sheets, but you definitely have long talks with your quarterbacks because they touch the ball every play.
Q: When you get into that rhythm with Daniel and the first unit, how do you look at the line first and realize that it's been two games now that your offensive line really seems to be starting to gel there. I know there are probably some things to build on when you start to break down the movie.
A: Again, I think they are improving every day. It was (Devery) Hamilton at guard now and (Max) Garcia (center). And we felt comfortable with Garcia. In Florida, he had. He played a few league games and I kept asking him: 'Are you sure you're good?' And he said, 'Yes. I don't know what the problem is. You know, the lineman mentality. But it's proof that their coaches take care of them every day and that the players are flexible. So a few good reps there; and certainly, a lot to work on.
Q: In the running game, it seemed like the design, especially at the goal line, the line worked really well together versus some kind of unit that you were.
A: I said to Mike, 'Let's not do a lot of runs in the second half. Let's not make up all these designs – him and Bobby. 'Let's do a few runs and that's it. So these guys know combination blocks or low blocks, whatever we need to call so that we're all on the same page based on which players come in when they come in and what positions they've played. Give these guys lots of credit for Chris and (Tackle Will) Holden and the big Roy. It's good to see.
Q: With Kayvon, do you feel like you've already ruled out something serious? I know there are more tests to come.
A: I can't answer yet. I think they'll do the tests tonight, MRIs and stuff like that, and they'll have a better idea tomorrow morning. You hope not, but you don't know the answer to that question yet.
Q: You've played all your runners – the healthy ones – except (Running Back) Saquon (Barkley), I think he's healthy. What went into that decision for you to hold it back and put everyone there?
A: I just thought it was probably best for the team. He made a very good camp. I gave him the night, basically. I have a lot of confidence. It took a lot of reps. He's had some physical training, so I wanted to see (Running Back) Antonio (Williams) and (Running Back Jashaun) Corbin tonight run behind our front row, so to speak. So the number of games if he had gone there would have only been a few anyway, so I made the decision to hold him off.