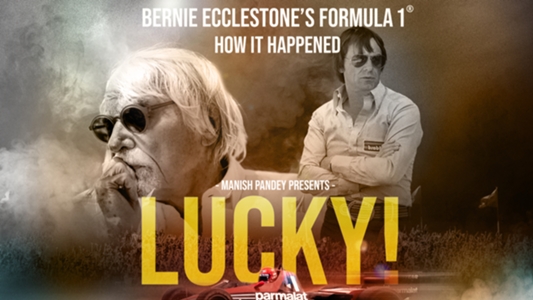 Documentary by Bernie Ecclestone Lucky! land on DAZN in select markets
DAZN, the global sports streaming service, has acquired exclusive rights to broadcast the highly anticipated documentary series Fortunate!, in six markets: Austria, Germany, Italy, Japan, Spain and Switzerland.
The eight-part series explores the history of Formula 1 as told by its founder, Bernie Ecclestone, and will land on DAZN later this year.
Written and directed by Manish Pandey (Senna), Fortunate! is the intensely personal story of Bernie Ecclestone as he realizes his vision to create and develop a sport capable of rivaling the FIFA World Cup and the Olympics.
Now 91, he has remained an enigma, but has been widely filmed at his home in Gstaad and Ibiza during the Covid-19 lockdown, unraveling his life story and birth story. , growth and phenomenal success of Formula 1. Original music for the series will be composed by Antonio Pinto (Senna).
Grant Best, DAZN's EVP Global Commissioning & Original Content, said, "Sports is full of entrepreneurial characters and their game-changing stories. For more than forty years, Bernie Ecclestone's vision has transformed F1 into one of the greatest annual sporting events in the world.
"DAZN Studios continues to work with exceptional filmmakers and we are thrilled to be working with Manish Pandey as he brings this amazing story to our sports fans in some of our biggest markets."
Pandey added: "Fortunate! is a series that I have written and researched all my life. This is a once-in-a-lifetime opportunity to work with Bernie and tell the story of an enigmatic, unrivaled businessman who single-handedly created a sports franchise that will likely never happen again.
"In his 70 years in the sport, he has dealt with public figures from Mandela to Blair, and with pilots from Fangio, to Senna, to Hamilton. Our major broadcast partners DAZN, Discovery, ESPN and NENT have been incredible support and I look forward to working with each of them to make the series a success in their respective markets."
The series was acquired through DAZN's specialty content development arm, DAZN Studios, which launched earlier this year to enhance the company's ability to create development deals, sell and license its documentaries, series and original sports films, and explore new production opportunities.
Other productions on DAZN Studios' 2022 slate include; feature-length documentaries Green Lions, exploring the untold and inspiring story of Cameroon's 1990 FIFA World Cup heroes, Maradona: The Fall, an explosive behind-the-scenes look at one of the biggest controversies in the history of the World Cup, and The PhenomenonRonnie, the ultimate redemption story of Brazilian soccer icon Ronaldo Nazario de Lima.