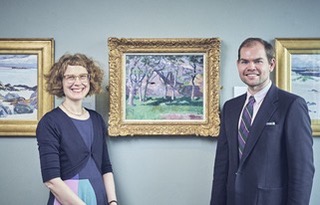 Hidden Treasure Hunt – DNG Online Limited
An auction house is urging locals to check their lofts and closets to see what's hiding there.
Specialist art auctioneers Lyon & Turnbull in Edinburgh are coming to the area on September 10 to look at everything from paintings to jewelery to furniture.
Everyone is welcome to attend the Kirkcudbright Galleries sessions, but booking is essential for the 15-minute judging slots.
In addition to casting her informed eye over the objects brought in by the public during the day, at 6 p.m., Alice Strang, a well-known figure in the art world and senior specialist in modern and contemporary art from Lyon & Turnbull, will give a lecture talk about The Art of Collecting in the galleries in the evening.
Her lecture will take place in the context of an exhibition of illustrations by Jessie M. King, trained at the Glasgow School of Art, who lived in the city and was one of the leading illustrators of the time.
James MacNaught, associate director and team leader for Lyon & Turnbull in Glasgow and the west coast of Scotland, is one of the specialists who will be in Kirkcudbright that day.
He said: "We are very excited to see what treasures people will discover and bring to us for review on September 10.
"Kirkcudbright has such a rich artistic history. There are bound to be hidden treasures in the houses of the region.
"We like to go out and find out how people came across objects and works of art: often they are in the most unusual and surprising places."