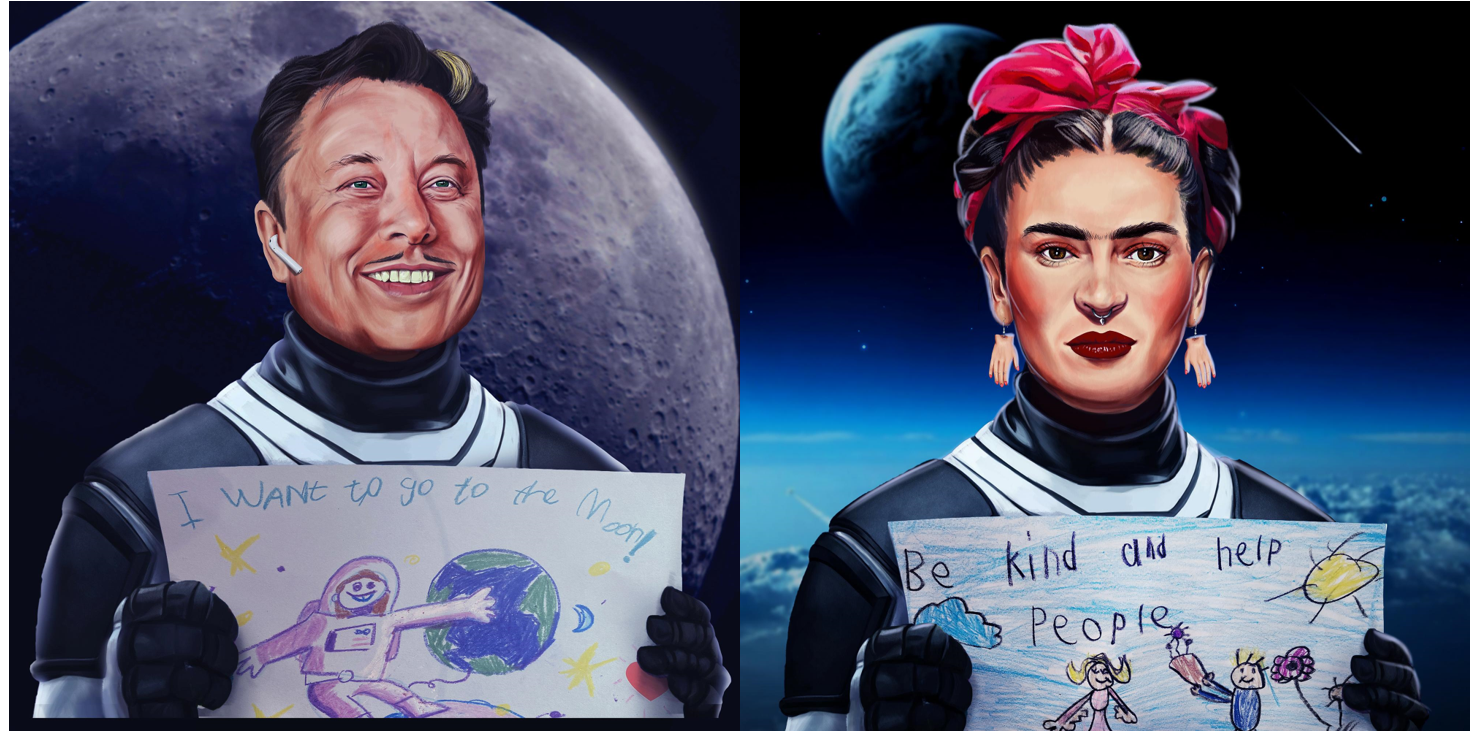 House of Legends joins the Axiom space mission for the world's first NFT exhibit in space
"Space is for everyone."- Eytan Stibbe, Rakia Mission 1 (Ax-1)
On April 8, Axiom Space launched the first-ever private space mission to the International Space Station (ISS). The Ax-1 mission is the first-ever private mission to the ISS and consists of former NASA astronaut and Vice President of Axiom Business Development Michael López-Alegría as commander; Larry Connor, American entrepreneur and nonprofit activist investor, as the pilot; Canadian investor and philanthropist Mark Pathy as mission specialist; and impact investor and philanthropist Eytan Stibbe from Israel as a mission specialist.
The four astronauts did not travel to the stars alone. Along with them are 30 super rare House of Legends NFTs, which drop in an auction, with all proceeds going to change lives on Earth.
House of Legends is a blockchain-based brand that harnesses the power of NFT and Web3 technology to make a real impact. NFTs have the power to change the lives of collectors, investors and creators – and HOL is using this immense new digital force to change the lives of more people around the world. Today, HOL enjoys the support of Eyatn Stibbe, member of the Ax-1 team, and his mission Rakia, one of the visionary companies of our time.
A space mission that changes the lives of a million people
The Ax-1 mission sees four humans push the boundaries like never before. On April 8, they made history as the first private space mission crew to the International Space Station (ISS).
Ax-1 uses a SpaceX Falcon 9 rocket and a Dragon 2 capsule to transport the four astronauts to the ISS for the 10-day mission. Among them is Eytan Stibbe, an Israeli impact investor and philanthropist, who is on the Rakia mission.
Rakia's underlying goal is to recognize the potential benefits of space exploration. Its purpose is to harness the curiosity associated with human space travel and unleash its creative potential by raising awareness of the importance of preserving Earth's finite resources and fostering a commitment to international collaborations and the advancement of research. spatial. As an educational endeavor, students, educators, researchers, intellectuals and the general public are energized by their exposure to the many scientific experiments conducted aboard the space station and also by the demonstrations of the use of technology Israeli. The educational goals of the mission are to foster the live transmission of educational content to Israeli children and the unique opportunity to see Israeli art being created and exhibited. Because no dream is out of reach.
As part of the mission, Stibbe presents the new House of Legends public project, which aims to change the lives of one million people on Earth. The "Wish Upon a Star" honorary series of 30 NFT artworks is created especially for this mission.
As part of the project, HOL invited children from around the world to hand-draw their hopes and aspirations for humanity. The HOL team includes 30 of these artistic representations in the NFT series "Wish Upon a Star".
During 'Rakia', HOL and Stibbe do the first-ever NFT exhibition in space. The digital assets are auctioned off for charity once the crew returns to Earth. Most importantly, 100% of auction proceeds are donated to HOL's charitable initiative to provide access to clean water to communities in India and Africa.

The NFT series "Wish Upon a Star"
This historic event demands an equally exceptional quality for the first NFTs to be presented in space. Therefore, the task fell into the hands of an extraordinary talent, world-renowned Forbes 30-under-30 artist Amit Shimoni.
Shimoni is also the co-founder of House of Legends and the creator of popular art brand, Hipstory. He adds his vision to children's paintings and creates a remarkable NFT collection with a unique life-changing power.
These super rare NFT HOL depict some of the legends of the project containing the kids' handmade sketches. Each NFT represents a child's wish for a better future. And this Rakia-HOL collaboration ensures that all children's hopes reach for the stars. Above all, it aims to inspire future generations to dream big and take action for a better world.
While on the ISS, Stibbe will display NFTs via a tablet, to share and talk about the mission on video.
All NFTs in the "Wish Upon a Star" series have the same clear and inspiring message of hope, unity and peace for the whole world. They all fall into the House of Legends collection, where they will be auctioned off. All proceeds go to building water wells for more communities around the world. Finally, the highest bidder for each NFT will have their name inscribed on the water well that will be built with their donation. This is similar to eToro x HOL sponsored water wells.
HOL and the Rakia Mission Collaboration is a story in the making
House of Legends is very grateful for the support of Eytan Stibbe in this historic mission. The common goal is to help millions of people in need, living in forgotten villages around the world. As Eytan Stibbe and the Rakia mission make space history, 'Wish Upon a Star' NFTs are helping to make a difference in communities here on Earth.
This isn't the first time House of Legends has contributed to a larger-than-life cause. Last year, HOL created a Genesis Collection of 9,993 works of NFT art honoring some of the most remarkable men and women in history. The collection includes Amit Shimoni's original pop-art depictions of famous inspirational figures, such as Oprah, Elon Musk, the Dalai Lama, Frida Kahlo and Andy Warhol, among others.
The entire collection sold out within 48 hours of launch day and raised $4.8 million. As part of its charity project, HOL has partnered with the acclaimed global NGO Drop4Drop, to build drinking water wells in remote villages across India and Africa. With the collective proceeds of this NFT sale, HOL has given access to drinking water to more than 80,000 people.
House of Legends and the production house behind it, Meta-Brothers, aim to give NFT enthusiasts the opportunity to be part of a thriving, life-changing movement while simultaneously participating in the exciting NFT revolution. Becoming a Legends holder is more than being an NFT collector, it gives the luxurious status of being a true legend. Currently, the floor price for HOL NFT stands at 0.08 ETH, making it a good time for NFT enthusiasts.
Under the brilliant leadership of Tamara Yannay, House of Legends is growing into a humanitarian-centric project with global reach. Tamara is a prolific NFT entrepreneur with significant experience in the IDF as a photojournalist. Traveling the world for her work has helped Tamara uncover the sad truth of water-starved communities and plastic pollution. Today, she dedicates her projects to raising funds to provide access to clean water for millions of people, while inspiring more companies and businesses to follow in her footsteps. The next mission will be – solar energy solutions.
HOL works closely with Drop4Drop, a community development initiative, to provide access to clean water to communities in need. 80 water wells for 80,000 people are underway thanks to the successful launch of HOL. Now they are looking to build even more wells in 6 countries in India and Africa.
Access to clean water helps people improve their livelihoods and have better opportunities to build a safer and brighter future.
On April 9, we all gazed up at the stars through House of Legends! Now we are participating in the historic "Wish Upon a Star" NFT auction to make the world a better place for those in need. Your contribution is more important than ever. Just because kids can't reach space doesn't mean their wishes can't reach the stars.
You can learn more about House of Legends here: Website | OpenSea |Twitter | Discord| instagram|
Rakia Mission: https://www.eng.rakiamission.co.il/
Studio Shimoni and Hipstory: Website | Instagram|Facebook|
Also find out more about Meta-Brothers here: Website | Twitter | LinkedIn | instagram|