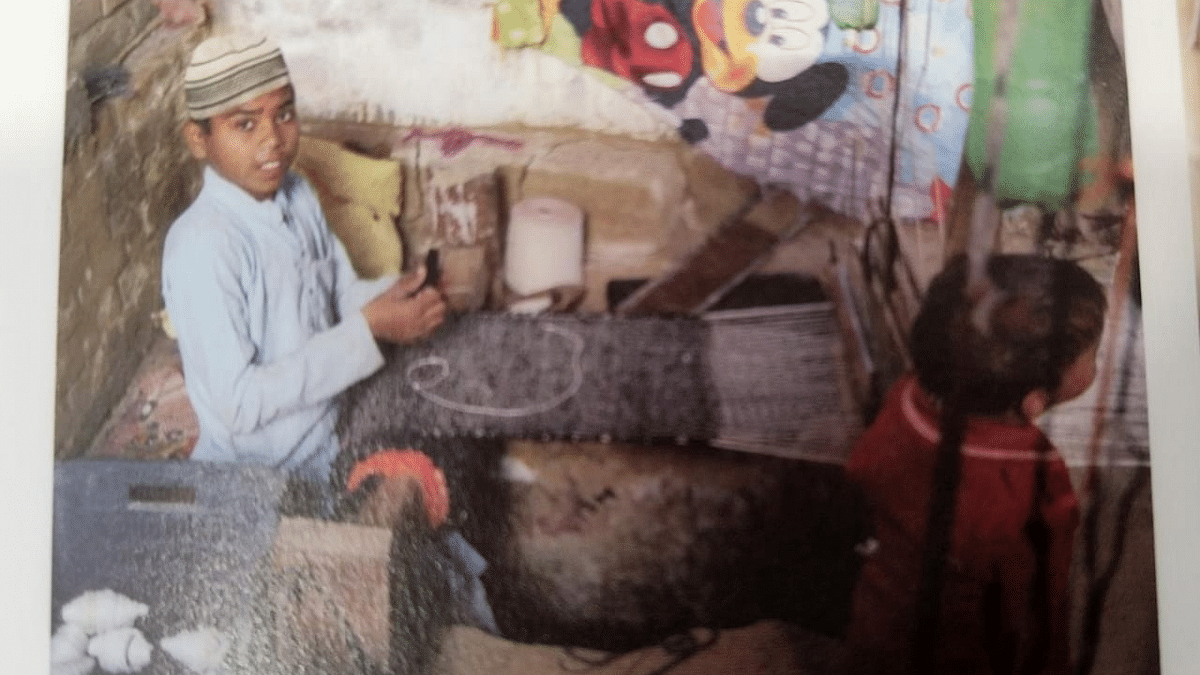 In the frames of Chitvan Gill there are stories of child labor, suffering and pandemic
New Delhi: A Mickey Mouse towel hangs above the child as he sits on the edge of a pit, weaving. But the cartoon character's innocent symbol inside the frame barely covers his reality and the more than 160 million others like him around the world who are about to hang on. But photographer Chitvan Gill hasn't given up yet. His exhibition LLife in the Shadows – India's Invisible Children of the Poor at India International Center is determined to keep their stories alive.
Over the past two years, the economic downturn and Covid-19-induced lockdowns have pushed millions of children out of school and forced them to work, often in deplorable and unsafe conditions. And Gill's photographs, taken over a 3-month period in 2021 in villages in Rajasthan, Madhya Pradesh, among others, document exactly that. From cotton weaving and ginning to brick kilns and stone carving, informal industries continue to use child labor.
"These children work in such dangerous conditions that one really wonders what is wrong with the world that these children are forced to survive like this. What are their choices? Gill said speaking of a village in Uttar Pradesh.
---
Read also : Praveen Jain's photo exhibition is a journey through India's modern political history
---
Humanity and Hostility
What really stands out about Gill's work is the sense of humanity with which she treats her subjects, children and their families. His photographs strike a certain balance between maintaining the dignity of working children, but also highlighting their deplorable conditions. Her work depicts the contradictions in the lives of these children – innocence and impending danger. This juxtaposition is one of the series' many distinctive themes.
The absence and failure of the state is also evident through the images. "There's no sense of government, it's just missing," Gill said.
While India has several existing laws abolishing child labor, children across the country continue to suffer. "There are certain gaps in India's child labor policies that exclude certain children from the law, such as those working in households, child actors, etc. These ambiguities must be resolved so that children are better protected in India," said Insaf Nizam, an International Labor Organization (ILO) specialist who opened the exhibition.
Speaking about what struck her most about working on this series, Gill noted that there was a sense of hostility between people trying to help these children and to impose the law like government agencies and NGOs, and villagers. Rather than creating a sense of mutual understanding and helping these children access school, they created an atmosphere of fear.
"If we don't address these root causes of child labor rather than just treating its symptoms, this phenomenon will continue, putting millions of children at risk in the future," Nizam added.
---
Read also : Art meets design in this exhibition of photographs by Rohit Chawla
---
Breaking down misconceptions
Through his work, Chitvan Gill also tries to break down misconceptions surrounding child labor, such as lack of parental care and the consequent push for their children to work. "Such myths are simply not true. I have seen how these parents spoil their children, provide for them to the best of their means and ability," she said.
According to Nizam, in addition to discussing issues such as child labor institutionally at the ILO and in other policy spheres, it is also important to consider these issues in a social sphere. Media, photography and cultural exchanges can help change mentalities.
This project was a collaboration between Work: No Child's Business (WNCB) and Chitvan Gill. The WNCB is an alliance committed to ensuring that children are free from child labor and enjoy their right to quality education and decent work in their future. WNCB Country Officer Garima Kaur said, "It was during the International Year for the Elimination of Child Labor (2021) that we partnered with Chitvan to showcase the intersectional and multi-layered issues of child labor. through the stories of these invisible children and their ecosystem as an alliance (WNCB) committed to action for the elimination of child labor and this exhibition attempts to advocate for the same.
Gill's work is on display at the India International Center Art Gallery in Delhi from July 1-14.
Sanjeev Bhargava, one of the many exhibitors, said: "These photographs really touch your heart, the expressions on the faces of these children. In the realm of social media today, photography is a vital medium through which such issues can be discussed and made a dent in the world.
(Edited by Srinjoy Dey)