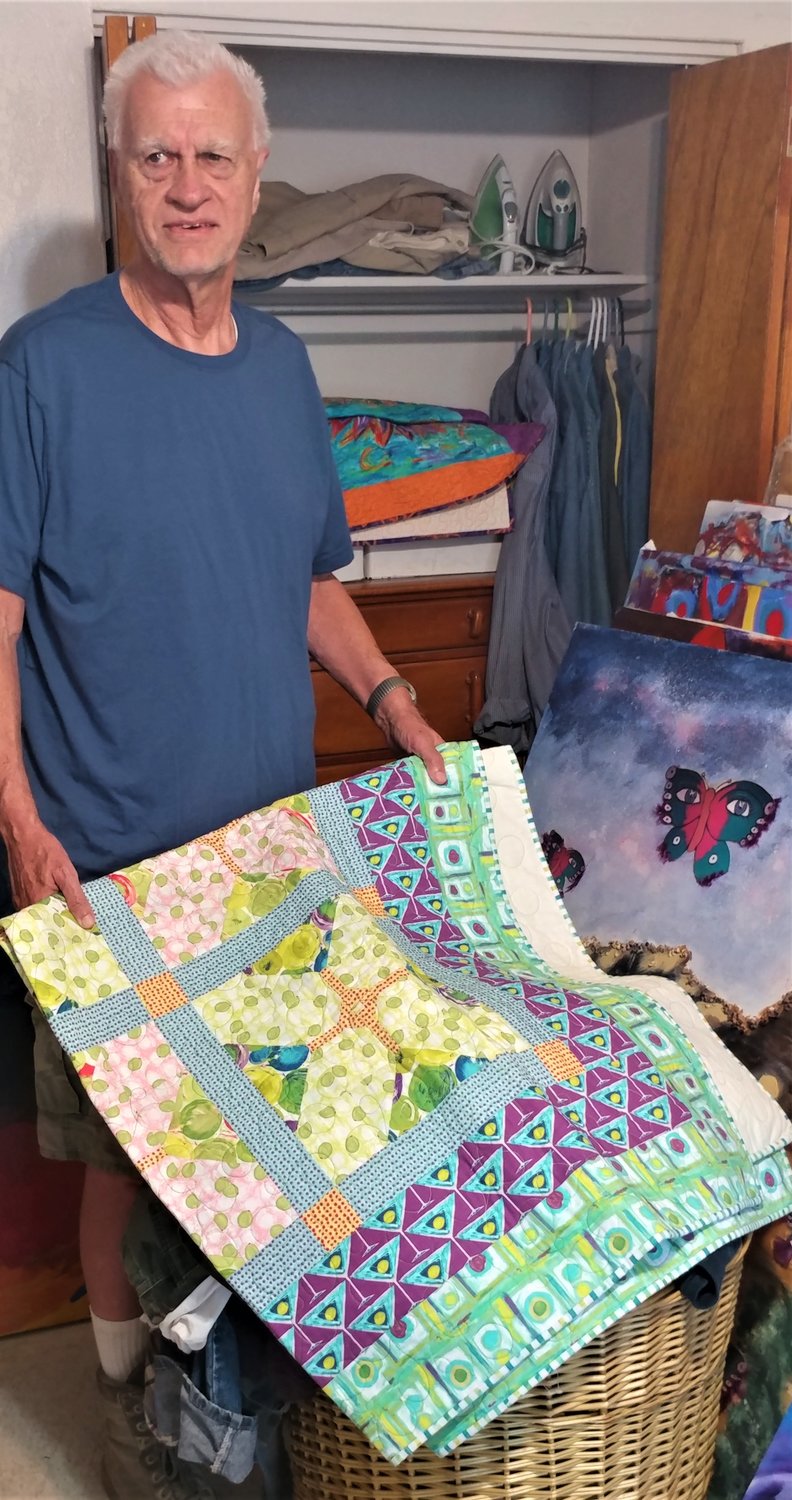 Las Crucen George Mendoza nominated for Pulitzer
By Mike Cook
Las Cruces artist and author George Mendoza has been nominated for a 2022 Pulitzer Prize for Fiction for his book "Journey of the Spirit Man". Mendoza is also an internationally renowned painter and competed as a runner in the 1980 and 1984 Paralympic Games.
"I am honored to be nominated," Mendoza said of the Pulitzer Prize nomination. "It's like getting a Golden Globe or an Oscar."
The winners and nominated finalists for the 2022 Pulitzer Prizes will be announced in April, according to www.pulitzer.org.
Mendoza, 66, has been legally blind since the age of 15, he said. There remains some peripheral vision, as well as the colors he sees – and paints – above blind spots. He has been painting and drawing since his childhood and began painting full time in the early 1990s.
Mendoza has also become a prolific author, with over 30 books and manuscripts to his name, including six children's books, two motivational books, and other books in the Spirit Man series awaiting publication.
The books take place throughout the Mesilla Valley and New Mexico, as well as other states and many countries that Mendoza has visited. The Spirit Man series is "a modern day fable", he said, calling it "magical realism".
Using talking books for the blind, Mendoza is an avid reader and a particular fan of the late Tony Hillerman, he said. He uses the JAWS screen reader for computer users with vision loss to send and receive emails, including communication with his agent and discussions about potential book and movie offerings based. on his work.
A native of New York City, Mendoza is a graduate of the New Mexico School for the Blind in Alamogordo, which features prominently in Book # 7 in its series: "Song of the Spirit Man," Mendoza said.
He was seriously injured while running in the Organ Mountains in 2011, suffering from a broken left arm and jaw as well as damage to his right hip and knee, Mendoza said. This experience helped him "discover" the location in the organs of the catwalk that leads his hero, Michael, on his adventures.
in the "Spirit Man" series. The character is based on Mendoza's actual son, Michael, and "Journey of the Spirit Man" was dedicated to Mendoza's daughter, Maria. Both children live in Washington, DC
Mendoza's works have been exhibited in galleries around the world and are featured in many private collections. His "Colors of the Wind" exhibit was a Smithsonian national traveling art exhibit. Mendoza's biographies include one of the same name, "Colors of the Wind" and "Running Toward the Light".
Mendoza also did his fair share of book autographs, and remembers one in particular at the Thomas Branigan Memorial Library in which a young fan asked him, "So you can fly like a blind wizard?"
He also works with creative writing students in a program at New Mexico State University.
He is also the founder of the Wise Tree Foundation, a non-profit organization he founded in 2013 to promote the arts for people with disabilities, according to his website.
Mendoza is a member of the Smithsonian and received the NMSU Distinguished Alumni Award in 2014.
Through his paintings and books, "the world sees how I see," Mendoza said.
Visit www.georgemendoza.com.