Mummified robot joins JR at first Egyptian art exhibition at Giza pyramids
"Forever is now" in Giza
"Forever is now" marks the first contemporary art exhibition to be held at the pyramids of Giza in Egypt. the all-female company egypt art opened its 4th edition of the exhibition this week, October 21, 2021. featuring the works of the French artist JR, British robotic artist Ai-Da and others from around the world, "forever is now" marks a departure from its previous editions: it will present international and local artists for the first time. With that in mind, the team notes that the show is the first of its kind in 4,500 years. 'forever is now' is visible until November 7, 2021
egyptian art founder nadine abdel ghaffar comments on the spirit of the exhibition: 'the pyramids have a long and illustrious history of an extraordinary genre that has fascinated and inspired artists from all over the world. I am delighted to share what will be an unforgettable encounter with the union of art, history and heritage. '
JR, 'greetings from gizeh', © pixcelle photography
The AI-DA robot arrives in Egypt
The ultra-realistic robot artist Ai-Da is present at the "forever is now" exhibition of Egyptian art at the pyramids in Egypt. while the artificially intelligent humanoid can draw, paint and engage in performance art, she now presents a sculptural "self-portrait". Nestled in a contemporary sarcophagus, the work takes the form of a "mummified robot" with three machine-like limbs. the self-portrait is titled 'Ideadly riddle'and refers to ancient Egyptian themes of the afterlife as well as the contemporary obsession with achieving immortality through the use of biotechnology in the 21st century.
The "immortal riddle" exhibition comes shortly after it was announced that the British robotic artist had been detained by Egyptian authorities for 10 days because she was considered a security risk. read designboom's recent interview with the creator of Ai-Da here.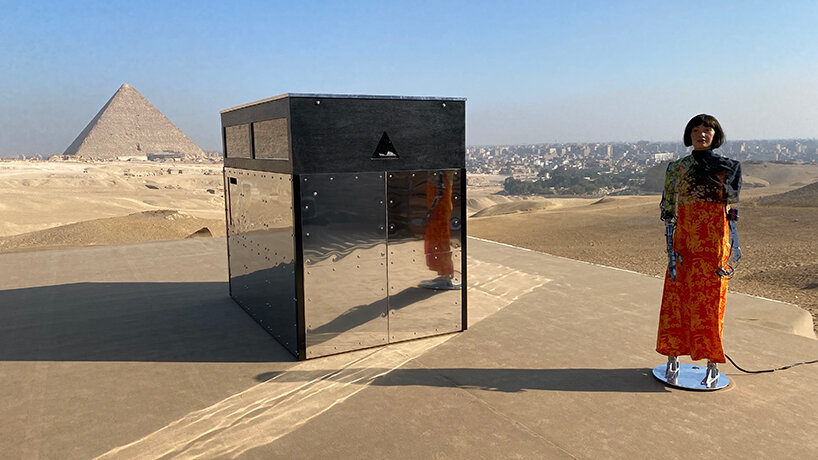 Ai-Da, images from "The Immortal Enigma" courtesy of MIDAS
the art exhibition at the pyramids
the works presented by art of egypt at the 'forever is now' exhibition are scattered on the giza plateau. each is placed as a composition in direct dialogue with the monumental pyramids. works such as "(plan of the path of light) in the house of hidden places" by shuster + moseley and "barzakh" by moataz nasr echo the triangular profile, overshadowing the monoliths in the foreground. Meanwhile, works such as "Greetings from Giza" by JR and "Ensemble" by Lorenzo Quinn, show huge hands in front of the pyramids to be seen from a precise point of view.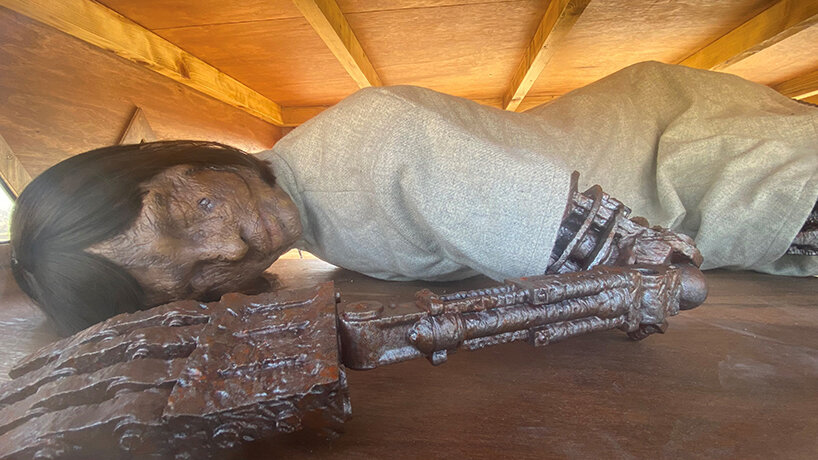 Ai-Da, images from "The Immortal Enigma" courtesy of MIDAS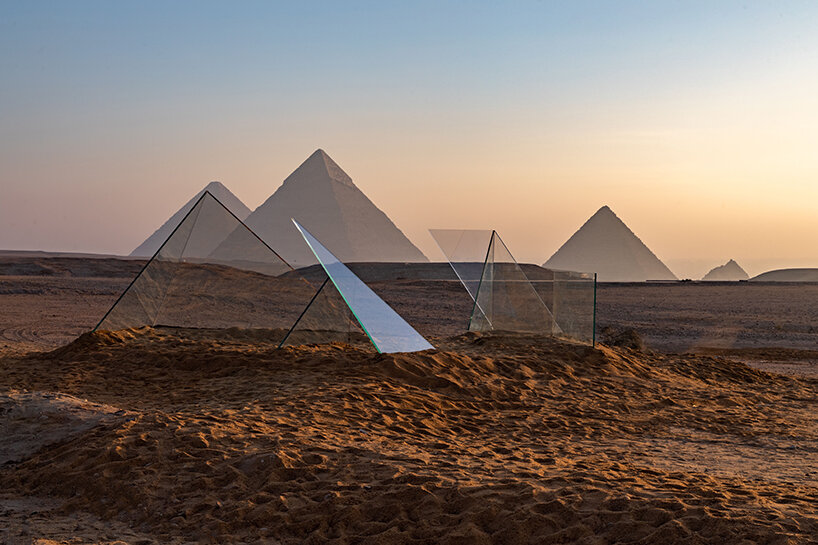 shuster + moseley, '(light path plan) in the house of hidden places' © pixcelle photography