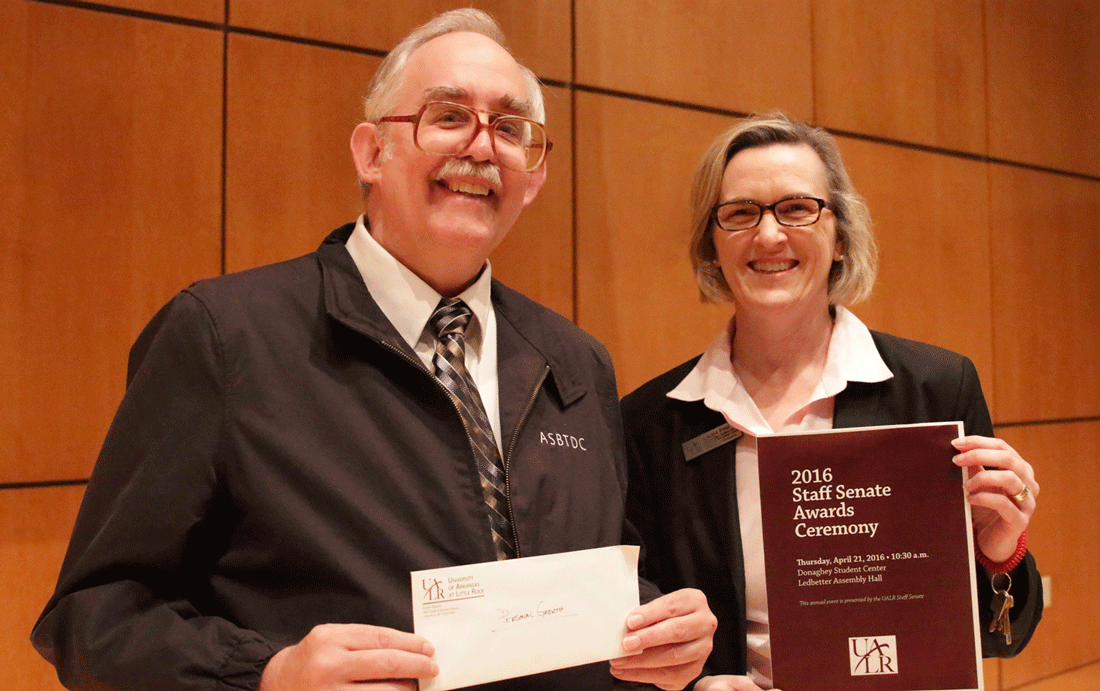 Small business specialist Timothy Lee retires from ASBTDC after 27 years
Project Specialist Timothy Lee retired in late March after 27 years with the Arkansas Small Business and Technology Development Center (ASBTDC) at UA Little Rock.
For ASBTDC, Lee served as the organization's webmaster, while also creating and leading training for small businesses on everything web-related, from e-commerce to analytics. He has also led several technology workshops at SBDC's national annual conferences in the United States.
"Tim is very versatile and his combination of technical and soft skills has contributed to the success of many projects," said Laura Fine, State Director of ASBTDC. "I have always appreciated his positive attitude and willingness to take on any project, from cybersecurity to disaster recovery to resources for deaf and hard of hearing entrepreneurs. It has been a pleasure to work alongside Tim for nearly 27 years and to see the impact he has had on ASBTDC, UA Little Rock and the Arkansas small business community.
Lee's family moved often as a child as his father had a career in the United States Navy. The family moved back to Arkansas in 1970 when Lee's father retired from military service and later worked as an assistant registrar at UA Little Rock.
Lee followed in his father's footsteps to join the military, choosing to enter the United States Air Force. A veteran of Operations Desert Shield and Desert Storm, he toured England, Italy, Greece and Korea during his 18-year career and was awarded the Meritorious Service Medal with two oak leaf clusters.
Nearing military retirement in 1995, Lee found a job at the UA Little Rock Small Business Center that involved traveling to communities in the Arkansas Delta teaching people how to use the Internet and computer programs like Microsoft. Word and Excel.
"My first project, where I was driving around teaching people how to use the internet, was my favorite," Lee said. "It was a lot of work, and it was long days, but it was very rewarding. I was reintroduced to our state. I think we've done a lot of great work in economic development and teaching business owners the value of having a website. »
Throughout his career at ASBTDC, Lee has not only advanced Internet commerce for businesses, but he has also helped small businesses generate sales through their online presence, championed seasoned businesses, and produced training videos for the deaf and hard of hearing.
He plans to earn an associate's degree in ASL now that he is retired and volunteer in various roles.