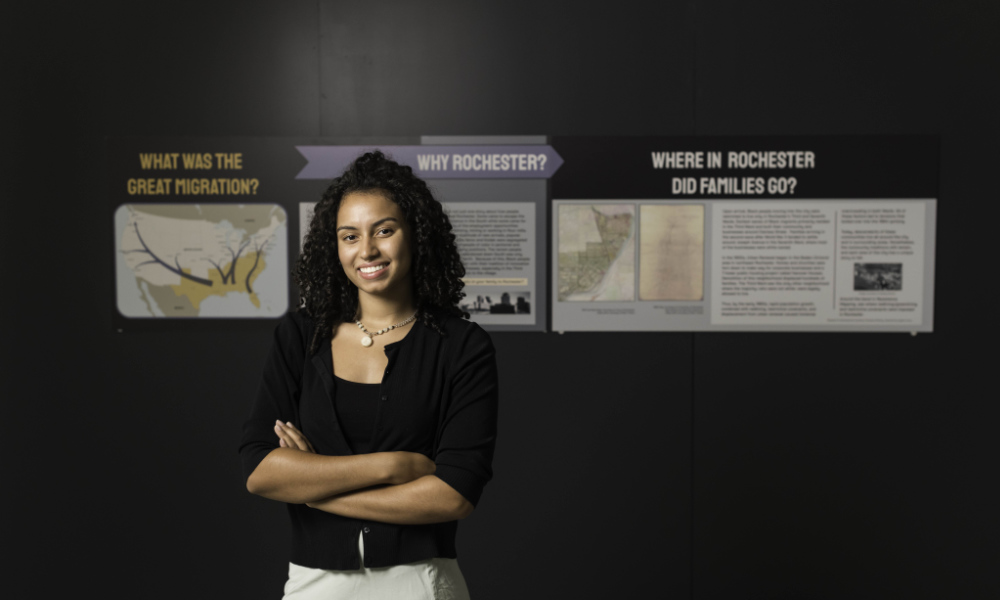 Students build strong relationships working with nonprofit Teen Empowerment: NewsCenter


July 18, 2022



The Uprooted Clarissa exhibition was created with undergraduate students playing major roles.
Brynn Murphy-Stanley '23 originally planned to pursue a doctorate and become a college professor after graduating from the University of Rochester. Now, she will be pursuing a law degree in hopes of working with residents of black and brown communities who are seeking a greater voice on the issues that affect their daily lives.
What changed? His work with the Teen Empowerment Center, a non-profit organization whose mission is to foster youth-led social change by employing and training young people to work with adults towards the goals of peace, equity and justice.
"It really got to me," says Murphy-Stanley, a Syracuse, New York, majoring in African American Studies and another in Gender, Sexuality, and Women's Studies. "When you're in an academic institution, you can be stuck in an academic mindset. But there is another world out there. Teen Empowerment showed me how communities can be valued and supported, and how black and brown lives deserve to be celebrated and have a voice.
Teen Empowerment has offices in Boston and Somerville, Massachusetts, as well as Rochester. Each fall, the organization hires young organizers to work in their hometown – in the Westside and Eastside neighborhoods in Rochester – and engages more than 1,000 community peers and adults in building strong, healthy communities. In 2020, they forged a relationship with the College, with students working as interns (and in some cases landing paid jobs) on special projects.
"Students and faculty who seek out community endeavors are the University's best assets for engaging honestly and meaningfully with Rochester's Black and Brown communities.
As of 2021, Murphy-Stanley and Sakhile Ntshangase '21 worked with Teen Empowerment on the Downtown Rochester art exhibit Clarissa Uprooted: discovering the stories of our village (from the 1940s to the early 1970s), produced in partnership with the Clarissa Street Reunion Committee. The exhibit, which runs through July 25 at Rochester Institute of Technology's City Art Space at 280 East Main Street in Rochester, shows how Clarissa Street, once the center of Rochester's black community, has thrived for more than a century , was ultimately destroyed by housing discrimination. in the form of redlining, the July 1964 rebellion, and displacement resulting from the federal urban renewal program of the 1950s and 1960s.
Murphy-Stanley and Ntshangase, who studied political science and history in Rochester, began working on the project as interns, transcribing interviews that would be used in the exhibit. Ntshangase, now a paralegal at a New York City law firm (he will begin a master's degree in legal studies this fall at Washington University in St. Louis), was later hired by Teen Empowerment as head of project of the exhibition, where his tasks included writing grant applications, curating content, digitizing photos, creating an oral history archive, and imagining the physical layout and themes of the exhibition. 'exposure.
"What started as a curiosity to learn more about Rochester's history beyond the traditional classroom has turned into a truly transformative experience," he says. "The highlight was being part of a strong community of elders, teens and scholars committed to telling the story of Rochester through the intimate experience of Clarissa Street before it was uprooted by urban renewal."
Murphy-Stanley also went from unpaid intern to paid employee when she was tasked with creating a panel on the great migration for the Uprooted Clarissa exposure. The Great Migration was a period from the 1910s to the 1970s in which more than six million black people moved from southern states to the North, Midwest and West to escape Jim Crow laws and into the hope to escape racial violence and seek better economic opportunities. .
Murphy-Stanley worked with Molly Ball, a lecturer at Department of Historyand Blair Tinker, Geographic Information Systems Research Specialist with Digital Scholarship at the River Campus Libraries, who helped create a map used in the exhibition. "My job required reading a lot of historical documents, studying migration patterns, and learning the stories of Rochester's older people," says Murphy-Stanley. "I learned that the most important part of [Rochester's] The great migration happened from the 1950s to the 1970s, but there was a lot of activity before that. People I interviewed talked about their parents and grandparents migrating to Rochester.
History students rebuild an old jazz club
Teen Empowerment's relationship with the University was forged in 2013, during the College's annual Wilson Pledge Days as part of a dialogue on gentrification. Teen Empowerment also works with the University Hoekelman Center, which connects medical center residents eager to learn from young people about their Genesee Street neighborhood in an effort to provide more culturally appropriate care. The young organizers of Teen Empowerment have also organized workshops to Warner School of Education graduate students in counseling.
His relationship with the University was strengthened after the COVID-19 pandemic forced all campuses to close in March 2020. Ball was teaching an inaugural course in public history with Michael Jarvis, associate professor of history, this semester- the. "The pandemic has thrown an incredible wrench into the process," says Ball, who serves as a mentor to the College's Teen Empowerment interns. "But the students found a way to create an impactful project."
Working remotely, the students designed and developed a website called Spirit of the Python which showcased the historic and diverse Corn Hill neighborhood of Rochester. They focused on the former Pythodd Club, a once bustling jazz club that was the heart of the neighborhood before becoming another casualty of urban renewal. The students collaborated with Teen Empowerment and other community partners, as well as local historians, with support from the River Campus Libraries.
"Not only does the site look great," says Ball, "it was thoroughly researched and instrumental in Uprooted Clarissa exposure."
Jennifer Banister, head of development and collaborations for Teen Empowerment, says the site is "amazing" given the amount of time students in Ball and Jarvis' class have had to create it.
"Our Rochester interns were focused and meticulous in their work on the Clarissa Street project," she says. "They were proactive and diligent, really wanting to get the facts right. It was a perfect collaborative process. More than that, students like Brynn and Sakhile, and faculty who seek out community efforts, are the University's best assets for honestly and meaningfully engaging with Rochester's black and brown communities.
---
Read more
Category: Highlighted