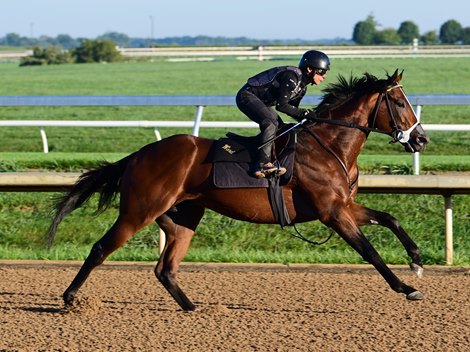 Turf specialist Golden Pal Works, can swap surfaces
Winner of the Double Breeders' Cup golden friend could return to his roots for his next start, coach Wesley Ward said Aug. 31.
The 4 year old son of Uncle Mo – who has made 10 of 11 career starts on the grass – returned to work on Wednesday at Keeneland for the first time since his August 5 Troy Stakes (G3T) score at Saratoga Racetrack and changed surfaces, easily going four furlongs in: 51 4/5 on the main track under practice pilot Julio Garcia.
Golden Pal made its racing debut in the spring of 2020 with a second-place finish by sprinting 4 1/2 furlongs down the main track at Gulfstream Park, but later excelled on the pitch. He won the Breeders' Cup Juvenile Turf Sprint (G2T) at Keeneland as a 2-year-old and achieved success at 3, recording victories in the Quick Call Stakes (G3T), Woodford Stakes presented by TVG (G3T ), and the Breeders' Cup Turf Sprint (G1T) at Del Mar. Although he has worked a few times for Ward on the dirt, the majority of his work under the coach's care has been on grass or on the synthetic track at Turfway Parkwhere he spent the winter last year.
"We wanted to give him a nice, easy workout with Julio Garcia, who's worked him his whole life. Every week we're going to step it up a bit," Ward said. "This one was just to see how he moves on it. The next one we'll put it in company and step it up from there. He had a nice job today, he was just floating around with his ears drooping from before back. It was really nice to see."
Golden Pal wins the Breeders' Cup Turf Sprint in Del Mar
Register for BloodHorse Daily
Ward said the October 7 Stoll Keenon Ogden Phoenix Stakes (G2) at Keeneland is on the radar for the colt, which is owned in partnership by Westerberg, Ms John Magnier, Michael Tabor and Derrick Smith. The Phoenix is ​​part of the Breeders' Cup Challenge Series and rewards the winner with an automatic place in the Qatar Racing Breeders' Cup Sprint (G1).
"His value as a stallion will increase dramatically if he shows an affinity for dirt, so that's why we're leaning in that direction. We've only got one or two starts left with him, so we're trying to take the right decisions," Ward said. "Not just for racing, but for a stud career. (Keeneland) being his home track, he's trained here all his life. That's where you'd want to feature him in this race. It would give his best chance to show, because he trained on this track forever, it would be where he would run his best race on earth.
Decisions still loom for Golden Pal's connections as the days count until his next start, which will indicate whether the colt pursues the Breeders' Cup Sprint or considers a return to the Turf Sprint.
"We'll have to see how he goes in and out, and runs, and all that," Ward said. "(A decision on the Breeders' Cup) will come after the race, if we decide to go that route or if we decide to train him in the Turf Sprint, we will clear the dirt. If he wins, and wins well in the Phoenix, it'll just tell the story there. Basically, we're just listening to it."
This season, Golden Pal started with a victory in the Shakertown Stakes (G2T) on April 9 at Keeneland, then traveled to Ascot Racecourse where he finished 16th in the King's Stand Stakes (G1) on June 14. before his rebound from Saratoga.
"He's a very talented horse; we can put him in the mud, or polytrack, or in a plowed field. When they're that good, it's a little disappointing sometimes," Ward said. "As we get a little faster and start picking up those jobs, we'll decide which way we're going to go, to see if he tackles dirt as well as grass. Being a talent huge, it should confuse here the closer we get, as to which direction we're going."
Golden Pal was bred in Florida by Randall Lowe, who campaigned for the colt under his Ranlo Investments banner in his first four starts before selling him privately to his current connections. He bankrolled $1,638,431 with a 7-2-0 record in 11 starts.