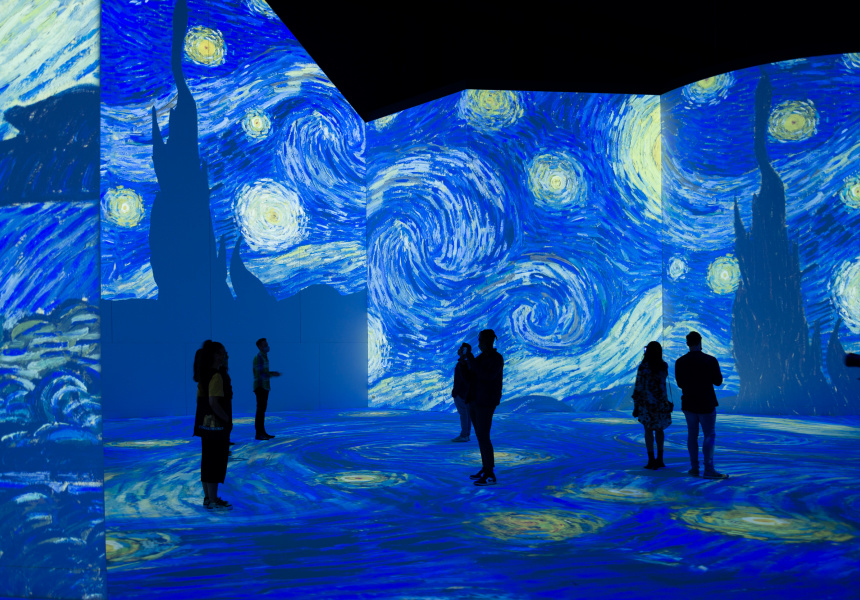 Van Gogh's most iconic paintings swirl around you in a monumental and fascinating new experience – with an endless sunflower room
"If Van Gogh were alive today, he would be a digital artist," says Bruce Peterson, founder of Grande Experiences, which is behind the new multisensory digital art gallery The Lume.
Not convinced? Think about it a bit. Van Gogh was an artist who represented the people and environments of his time through his personal lens. To take The Potato Eaters from 1885, widely regarded as his first major work, where he captured the hardships of everyday life for the lower classes – their bony and rough fingers, the skin on their altered faces. Or his Room in Arles from 1888, a snapshot of his bedroom with portraits of his friends hanging on the wall. Likewise, today, many artists capture the rawness of their daily lives through digital media such as video, photography and even 3D animation, then share their works on digital platforms, such as Instagram marketplaces. and NFT.
Also think about the hypnotic landscapes of Van Gogh, such as Wheat field with cypress trees from 1889. Tubes of paint had only been invented about fifty years earlier, making it easier for artists to work outdoors or outdoors, to capture vivid colors and light. naturalness of a scene. It was cutting edge technology at the time, and Van Gogh grabbed hold of it with both hands.
Fast forward more than 100 years, and we can now experience Van Gogh's mastery in a medium that is far more of the 21st century: a huge digital showcase.
The Lume has made its home in the Melbourne Convention and Exhibition Center, and its inaugural experience – centered on Van Gogh – spans 3,000 square meters, with ceilings that are 11 meters high (four stories, approximately).
There isn't a single gallery like this in the Southern Hemisphere, and this magnitude hits you as soon as you step into space. That, and the pleasant aromas swirling around you, which, Peterson explains, are designed to "sync" with the awe-inspiring surroundings.
Indeed it is like multi-sensory an immersive artistic experience like you can find nowadays, all over the world. The towering ceiling is loaded with no less than 150 state-of-the-art projectors, which stream high-definition images to all kinds of surfaces – whether flat, round or even stacks of cubes. Expect to see over 3,000 reimagined paintings, sketches, letters, and photos. Let yourself be enveloped by the iconic Starry Night, or experience a life-size reconstruction of Room in Arles.
But one of the most memorable parts of the experience is the use of animation. The cypress trees twist, the clouds of Starry Night swirl, Japanese cherry blossoms fall from their stems. It's a fascinating and surreal feeling when the brushstrokes beneath you move and you are swept away by the spell of it all.
The surround sound is just as amazing. A carefully curated soundtrack, which accompanies the glorious heights and dark battles of Van Gogh's life, is made up of classic yet recognizable pieces. "We brought in a team of specialist music composers to work with our creative design team," says Peterson. "We really wanted a classic soundtrack, but it's music that a lot of people know. And this is the music that really lends itself to Vincent's journey. There is some pretty frantic up-tempo music when he lives in the Saint-Rémy asylum, and then there are other moments of his time, like in the south of France, where the music is really bright. and happy.
Spot the artist's iconic series of sunflowers, whose vibrancy also comes to life at The Lume in a side room of infinity mirrors, much like Yayoi Kusama's luminous spotted pumpkins. Here, however, it looks like you are in an endless meadow of sunflowers. It's also very well lit, which makes for an undeniably good selfie moment.
There's also an on-site restaurant, Cafe Terrace 1888, inspired by French cafe culture and with a nod to Van Gogh's Dutch heritage. Find platters of French cheeses and cold cuts, a made-to-order soufflé bar, and cocktails such as Cherry Blossom-tini.
The Lume may have just opened in Melbourne, but it's from a company that has been providing immersive experiences to the public for decades. Grande Experiences has organized over 200 shows in over 160 cities and in 32 different languages. And at any given time, says Peterson, there are "15 experiences touring around the world, with eight or nine different content and themes." This is impressive for a company that was born and raised in Melbourne – which is also why the team has chosen this location as their permanent home. "We have always had the ambition to create a permanent, multisensory digital art gallery to show the content we show around the world in Melbourne."
But the local connection doesn't end there. Le Lume also has an ongoing program which, according to Peterson, "aims to nurture and celebrate the talent of established and emerging digital media artists in Australia." At the end of each experience, visitors can see three featurettes specially commissioned by local digital artists and their production teams, which take inspiration from Van Gogh. Colorful dream by 77 Productions is an aquatic dream sequence about the beauty of paint pigments, with vivid blues and golds reflecting Van Gogh Starry Night. Meanwhile, multidisciplinary artist Ross Calia collaborated with wife Gomeroi Krystal De Napoli (an astrophysicist and constellation artist) and wife Wiradjuri Ella Havelka (the first Indigenous person to join the Australian Ballet), to produce Our starry night. It is inspired by the famous aboriginal astronomical constellation Emu in the Sky.
"This digital medium is here to stay, and many Australian artists are working on it," says Peterson. "We are just the ones who provide them with the platform to exhibit their great art. "
Van Gogh tickets at Lume are available online, starting at $ 39 for adults. It's free for children under three.
thelume.com

@thelumemelbourne
Alana Kushnir is the founder of Guest Club, a membership network for art lovers and collectors.