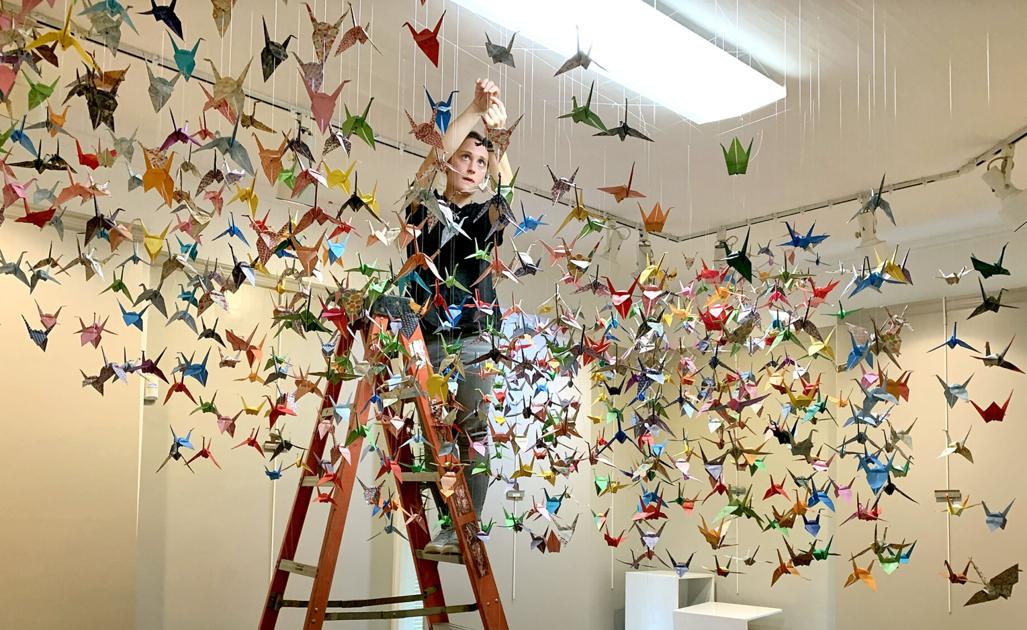 WATCH THE VIDEO | "Reflections of the Human Spirit" | Laurel Arts to Mark 20th Anniversary of September 11th with Exhibition and Special Events | Characteristics
SOMERSET, PA – September 11, 2001, was a day that changed America.
In Somerset County, the hijacked United Airlines Flight 93 crashed in a field near Shanksville, killing all passengers.
It was in the days, weeks and years that followed that the people of Somerset County came together not only to honor the lives lost, but also to preserve the history of this day for generations to come.
To pay tribute to those who embodied the American spirit in the face of tragedy, the exhibition "Reflections of the Human Spirit – America's County Responds to the Tragic Events of September 11" will be on display from September 6 to 30 at Laurel Arts' Philip Dressler Center for the Arts, 214 Harrison Ave.
The exhibit will feature artifacts from the National Park Service, fire departments and first responders, as well as photographs, illustrations, audio and video files from Somerset County and artistic symbols of hope.
"Last year we were thinking about ways to make even more impact in the community, and with the 20th anniversary of 9/11, and with the unique nature of how Somerset County has been affected, we felt that this was something we needed to do to thank these speakers, "said Jaclyn McCusker, Executive Director of Laurel Arts.
"Without hesitation, they answered the call," said McCusker.
"It was something no one could have predicted would happen in Shanksville, PA. So now, more than ever, we need times like this to see each other collectively and see hope. through tragedy. "
She said people responded with their hearts.
"It wasn't just the first responders," McCusker said.
"These are also the people who volunteered and later became known as Flight 93 ambassadors. Speaking with these people, I learn so much about what the people of this county gave in the moments and then the years that followed with the links with families. At the heart of this exhibit is about community, bringing people together, celebrating with respect what these people have done and given, and also honoring these heroes, the lives we have lost.
The exhibition, comprising 500 pieces of different sizes, will be presented in three thematic galleries.
"In the first, you will walk through a very bucolic landscape that will introduce you to Somerset County," said McCusker.
"This is something very important for Somerset County, but I hope people from the area will come and visit to see this and to see why it is called 'County of America'."
A second gallery will house artefacts that Laurel Arts has collected or loaned from the National Park Service, Fire Services, Somerset County Emergency Services Department, community members and Flight 93 Ambassadors.
"It's anything from challenge pieces and flags to photographs, artwork and art installations," McCusker said.
"The National Park Service pieces will be sensitive in nature, and we will have pieces of the wreckage. Many of these artifacts will be in crates stationed throughout the room. "
A third gallery will present 1,000 colorful origami paper cranes suspended from the ceiling.
"The symbolism is that of hope," said McCusker.
"One of the young men who was on the plane was from Japan, and every year his mother comes and brings a paper crane, and it's that symbol of hope. Ultimately, all of these artifacts, images and photographs are meant to instill a sense of hope, and that together we are better.
Along with the exhibition, a series of special events will be organized.
From 4 p.m. to 8 p.m. on September 10, guest speakers will share their experiences of September 11.
Dr Glenn Kashurba, pediatrician and disaster psychiatrist, and author of "Quiet Courage" and "Courage After the Crash".
"During those early days, his main focus was to work directly with families," said McCusker.
"When they stayed at Seven Springs (Mountain Resort) after the crash, he was on the first bus to take the families to the crash site. He had a very visceral and emotional connection to these people, and he was there to help them deal with their emotions. "
His presentation will include footage from his interviews and documentaries.
Flight 93 Ambassador G. Henry Cook, retired CEO of Somerset Trust Company, will also speak.
"He got involved with families and developed the memorial site," McCusker said.
"He will be doing a presentation that will include some elements of Flight 93, but it will also focus on Somerset County, from historical events to its people and their contribution."
Documentary filmmaker Katie Cook will speak about her film. It tells the story of 9/11 from the perspective of Somerset County.
Tom McMillan, author of "Flight 93: The Story, The Aftermath and The Legacy of the American Courage on 9/11", will also be in attendance.
In addition, the Somerset County Community Band will perform.
From 2 pm to 6 pm on September 11, Kashurba, G. Henry Cook and Katie Cook will be making presentations, with state and local officials.
At 7:00 p.m., the Johnstown Symphony Orchestra will present a commissioned musical piece that talks about the experiences and reactions of the Somerset community during the period surrounding September 11th.
The piece, composed by Thomas Dougherty of Pittsburgh, includes an oboe, viola and harp.
"They selected a composer who created a piece to specifically match the mood and theme of the three galleries," McCusker said.
"It will be like going from one room to another. We will record the piece and it will be performed several times as the exhibition progresses. "
The September 12 program is being finalized and will include guest speakers and documentary and film screenings.
"It was natural to have events for this weekend," said McCusker.
"It's a time for people to come together as a community to learn more and to thank these people. "
McCusker said the exhibit is for Somerset County residents to take a moment and feel a sense of pride.
"The people of this county are getting things done," she said.
"We have courage and we have tenacity. I believe this is something we should all be proud of, and it makes us even more proud to say, "Yes, we live in Somerset County," she said.
"We're trying to merge the arts more with the story in telling these stories, and it's about uplifting people. "
For those viewing the exhibit, the hope is that in addition to being educational, it also conveys the story of the people of the Somerset community.
"Now, more than ever, we need things that bring us together." McCusker said.
"At the end of this day, that's what it is. These are people who come together and work together. He looks beyond all other things.
"The reflection of the human spirit, that's what it is about, and he's the best of us, and we have to move forward together."
Plans are also being finalized to organize school visits to the exhibition.
There is no charge to attend the exhibition or special events.
The opening hours of the gallery are 11 a.m. to 6 p.m. Monday to Thursday and noon to 4 p.m. on Saturday.
For more information, call 814-443-2433 or visit www.laurelarts.org.