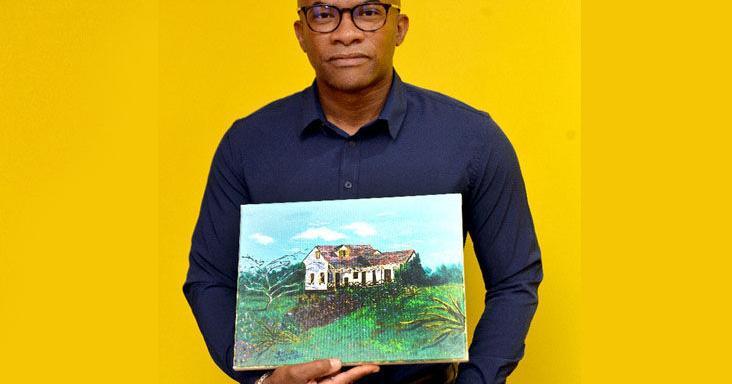 When poetry meets art | Local features
Landscape artist Ricardo Sealey's pieces have had a spellbinding effect on audiences since he took his talent for painting to the next level years ago. Fans of his work and art lovers in general will have another chance to feast on his latest collection at a joint exhibition on June 25. The exhibition is "a community of two unique genres" and will feature Sealey and author/poet Joel Frédérick.
Sealey started painting at a very young age, his teachers noticed his obvious gift and encouraged him to continue, his art is like a balm that soothes the soul. "I had a lot of losses in my family from an early age so I started looking for the beauty of things, especially in landscapes," says the artist. "I decided to go into art."
He had no formal training; instead, Sealey studied the work of legends like Michelangelo and John Singer Sargent, before discovering local masters like Leroy Clarke and Karen Sylvester.
Over the years he has pursued art primarily as a hobby and his passion has been rekindled during the pandemic. He kept his job to himself until his wife came across some of his pieces.
"When my wife found out I could paint, she started investing in me; Thanks to the encouragement of my family and friends, I started to go a little further," he says.
Sealey's favorite medium is oil paint which gives his artwork those bright, vibrant colors, but he also paints with acrylics which add dimension to his paintings.
He said: "Art will always have its place in society. Although many people turn to the internet for entertainment, I have noticed that there are those who want to hold on to tradition. People usually like to stand in front of a painting and admire it. One of his favorite paintings is "Primordial River", which is inspired by one of his favorite local destinations – Shark River along the main road in Paria.
"Despite how quickly we live our lives, I hope my paintings will inspire people to take the time to appreciate how blessed we are. Once in a while, stop and take a second look and enjoy the beauty of our landscapes," says Sealey.
Sealey will exhibit 10-15 paintings, including landscapes and portraits, reflecting her passion for women's rights and the environment. The four books by Joel Frederick are a combination of personal experiences and fiction.
"When Poetry Meets Art" will take place at East Lake Community, South Tumpuna Road, Arima on June 25th.